April 1 at 11:31am
Abraham & Lillian Turk Recuperative Care Center
+ share
Thank you for joining Interfaith Community Services in celebrating the launch of our new Abraham & Lillian Turk Recuperative Care Center! Your support is integral in helping us create a place of healing and restoration for our local neighbors working to overcome homelessness and rebuild their lives.
Our virtual tour featuring the Turk Center included a current Veteran resident of our Recuperative Care program, our lead donor Jerry Turk, and members of our passionate leadership team.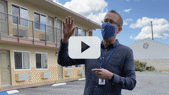 Please share the Abraham and Lillian Turk
Recuperative Care Center Virtual Tour:
https://youtu.be/qLqXMZalbfc
Renovations are currently underway and the Turk Center is projected to open in Fall 2021. Interfaith needs your support and partnership to bring this critical resource to reality. By sharing about the Turk Center project within your community, you help increase awareness about Interfaith programs and services.
Click Here to Learn More about the Turk Center and Ways to Get Involved!
If you have any questions or would like to get involved, please reach out to Varinda Missett, Chief Development Officer, vmissett@interf​aithservices.or​g or 760-270-3422.
Thank you for your unique role in helping make our shared community a better place for all,

Greg Anglea
Chief Executive Officer
Cohn Family CEO Chair

PS: Visit interfaithservices.org/donate or mail your donation to 550 W. Washington Ave., Escondido, CA 92025. Please note "Turk Center" on your check or select in the drop-down menu online.

Interfaith was awarded a 4-star rating for the 5th year in a row.
This places us among the top 12% of charities in the country!